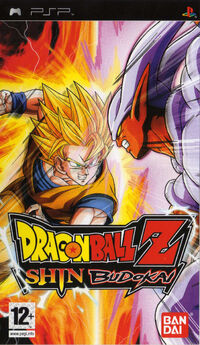 Dragon Ball Z: Shin BudokaiEdit
Dragon Ball Z: Shin Budokai (ドラゴンボールZ 真武道会,Doragon Bōru Zetto Shin Budōkai; lit. "Dragon Ball Z: New Tournament") is a fighting video game part of the Dragon Ball series. It was developed by Dimps, and was released on March 7, 2006. It is the first Dragon Ball Z game on thePlayStation Portable. Its sequel is Dragon Ball Z: Shin Budokai - Another Road. (Source: dragonball.wikia.com)
Known Problems
Edit
Flickering Black Screen: Playing in Non-Buffered mode will flicker a black screen every ~3-4 frames. Play on Buffered mode instead.
Flickering Graphics(Rarely Happens): Given the proper scenario there's the possibility for your character's sprite to get broke until you get hit or perform a technique.
Frame stuttering: May happen in PC. Switching backend to OpenGL fixes the problem.
Android Configuration
Edit
Disclaimer: The settings below are for mainly performance (Some of these will also help if your PC is slow). If a setting is not mentioned, it presumably doesn't affect the game in any way; feel free to experiment.
Graphics:
Rendering Mode: Buffered Rendering
Framerate Control: 3, Automatic.
Prevent FPS > 60: Yes.
Features: No particular settings.
Performance: 1xPSP Resolution, ALL YES.
Texture Scaling: ALL NO.
Texture Filtering: No particular settings.
Hack Settings: Disable Alpha test and Texture coord speedhack enabled.
Overlay Information: No particular settings.
Debugging: No particular settings.
Audio:
Enable Sound: ☑ (Horrible sound quality due to performance)
Low Latency Audio: ☐
System:
Fast Memory: [v]
Multithreaded (2+ CPUs or HT) : [v] (Enabled even though it's a single core phone=
I/O on thread: [v]
CPU Clock: 0, Default.
Atomic Audio Locks: No particular settings.
Other Settings:
Tested on the following:
Edit

Android
Phone
Phone's CPU Frequency
Android Version / ROM+Kernel
Format
FPS/VPS
Emu. Version

Samsung Galaxy Young

(GT-S6310)

Single Core @1 GHz
4.1.2 Jelly Bean / Custom ROM + Stock Kernel
CSO

35-55/60 (100% Speed)

(Opening)

---


5-15/60 (50-70% Speed)

(Gameplay)

0.9.7.1