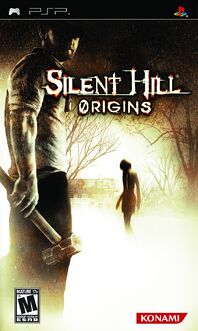 Silent Hill Origins
Edit
Silent Hill Origins (Japanese: サイレントヒル ゼロ Hepburn: Sairentohiru Zero?) is a survival horror video game for the PlayStation Portable developed by Climax Studios. It was published by Konami Digital Entertainment worldwide in late 2007, beginning in late October with the United Kingdom. A port for the PlayStation 2 was released worldwide in early 2008, beginning in March with North America, and it is available on the PlayStation Network in Europe and the United Kingdom. The fifth installment in the Silent Hill series, Origins is a prequel to the first game (1999). Set in the series' eponymous, fictional American town, Origins follows trucker Travis Grady as he searches for information about a girl whom he rescued from a fire. Along the way, he unlocks his repressed childhood memories. Gameplay uses a third-person perspective, and emphasizes combat, exploration, and puzzle-solving, similar to the previous installments. Origins was developed by the United Kingdom branch of Climax Studios, after it was transferred from the United States branch, who faced issues with the game engine and the vision of the game; the script, monsters, and level design were redone, and aspects of Origins‍ '​ atmosphere and gameplay intentionally replicated those of the first Silent Hill game. Origins was generally positively reviewed, although some reviewers wrote that it followed the formula of the series too closely and failed to add anything new. Its PlayStation 2 port received a lower aggregate score, with criticism directed towards its visuals.
Known Problems
Edit
Shadows: Shadows can disappear when "Disable Stencil Test" is enabled.
Cutscenes: Certain cutscenes are being interrupted.
Flashlight: The flashlight in the game is semi-broken (fixed in 1.5). Disabling Stencil Test should fix this.
PC Configuration
Edit
Disclaimer: The settings below are for a mix between performance and accuracy. If a setting is not mentioned, it presumably doesn't affect the game in any way; feel free to experiment.
Graphics:
Rendering Mode: Buffered Rendering
Simulate Block Transfer: ☐
Framerate Control: No particular settings..
Features: No particular settings.
Performance: Render resolution to 2x.
Texture Scaling: No particular settings.
Texture Filtering: No particular settings.
Hack Settings: No particular settings.
Overlay Information: No particular settings.
Debugging: No particular settings.
Audio:
Enable Sound: ☑
Low Latency Audio: ☐
System:
Fast Memory: ☑
'Multithreaded (2+ CPUs or HT) :' ☑
I/O on thread: ☐
CPU Clock: 333 +
Atomic Audio Locks: ☐